DSC Service Provider
Digital signature certificates registration (DSC) are those certificates which provide authentication of a document, papers, etc. Digital signature certificates used for the purpose of signing of E-forms by the individual person for a certain purpose. Digital signature certificates registration issued by a licensed certifying authority. Certifying authority means a person who granted a license to issue a digital signature certificate under section 24 of the Indian IT Act, 2000.
Certifying authority provides digital signature certificates within a period of one to three days from the date of providing all documents such as PAN card, Aadhar card, Mobile Number, Email ID, and Sify form, etc. The digital signature is valid for a period of one year to two years.
Some E- forms are required to be signed with the help of digital signature such as MGT-7, AOC-4, CHG-1, CHG-4, etc. DSE should be registered on the MCA portal.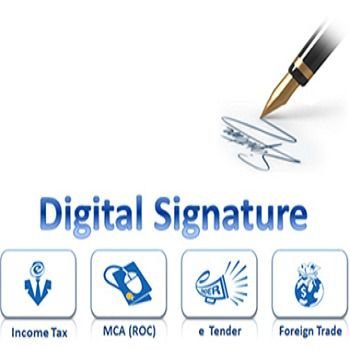 1.
Documents required for DSC
Firstly fill the form of DSC by applicant
Required ID proof of an applicant
Required address proof of an applicant
4.
E-TOKEN
E-token is a smart card that is used for store data to DSC. It is an password-protecting device. This token has specially built-in software to recognize DSC data.
A DSC have 2 class
1.CLASS-2 DSC
Class-2 DSC is only for individual person which is used for filing an income tax return, GST return, annual filing forms.
2.CLASS-3 DSC
Class-3 DSC is only for a special working person. It is the very highest DSC. It is used for e-tender, railway working, etc.
DSC validity is only one year or two years. It is renewal after the expiry of the validity of DSC.
5.
Apply for DSC
There are some major steps for apply DSC
Fill necessary documents (class of DSC, applicants contact no, address, GTS number, payments details, etc.)
Identity proof copy
Address proof copy
2 Passport size photo
Video Authentication of Applicant.
Private Limited Company
Basic Features to Read before starting private limited company
The private company is required to add the word "Private Limited" or "Pvt. Ltd." to the end of its name. A private company should have at least two members and two directors. The private company has the right to issue debentures to any number of persons.
Read More
Public Limited Company
Features of Public Limited Company
MCA provides the facility for the incorporation of public limited companies. For incorporation, firstly apply for name through RUN (Reserve Unique Name) on the MCA portal. After the availability of name from ROC we should file incorporation form i.e. Spice 32, INC 33(for eMOA), INC 34(for eAOA), .
Read More